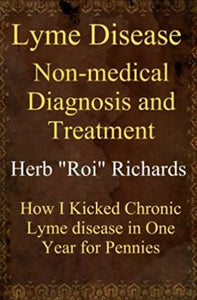 Book: Lyme Disease Non Medical Diagnosis and Treatment: How I Kicked Chronic Lyme disease in One Year for Pennies
Regular price $14.00 $7.00 Sale
Learn the truth about Lyme Disease and proactive steps that you can take to win the battle of this difficult-to-diagnose and nearly impossible-to-cure with modern medicine destroyer of one's quality of life. Prepare yourself to be enlightened and empowered.
An eye-opening paperback book, let me know for the first time M>M>S (or NACS) can treat Lyme disease. This book inspired me to try M>M>S and I'm so glad I did. MMS has been helping my recovery from Lyme disease more than anything else I've tried and it's so incredibly inexpensive and easy to use.
I am flabbergasted about this underground secret source of so many illnesses and diseases! I will take the $39 test for any ailment from now on. Why doesn't the CDC know about this? I like the straightforward style the author uses to tell his story of. Using a simple solution you can make In your kitchen, author Herb Richards weaves a story that makes sense for the novice person looking for answers to the question, "will I ever beat Lymes disease?"
"This is a book of 76 pages that gets to the point quickly but still tells interesting details of how Medical Science had abandoned the patient and even worse, mis-treated her. I was on the fence about ordering the book because of the low price. The knowledge I gained is worth many times the cost."  Testimonial