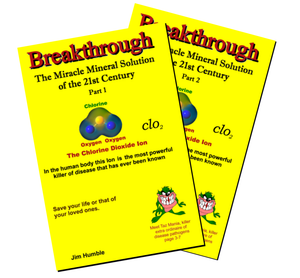 Book: 2 Book Set: Miracle Mineral Solution of the 21st Century Jim Humble Books Part 1 and 2
Regular price $40.00 Sale
Get 2 paperback books for 1 reduced price. One copy of Miracle Mineral Solution of the 21st Century Book Part 1 (130 pages), plus one copy of Miracle Mineral Solution of the 21st Century Book Part 2 (156 pages), by Jim Humble.
These books tell of the discovery and development of a new mineral that cured many people of malaria in the jungle of S. America. Later more than 75,000 cases of malaria were treated successfully in Africa. At the same time more than 388 cases of AIDS were successfully treated, and clinical trials were run with 100% success in the country of Malawi. Since that time thousands of people have successfully used the solution that is described in the book. People have recovered from Hepatitis C, from diabetes, from cancer, TB, colds, flu, lupus, and many other diseases. More than 100,000 people in America have been treated with more than 11,000 bottles of the solution being sold each month as of March 2008. This miracle mineral solution creates an internal environment boosting the immune system so that disease-borne pathogens cannot survive.
An intimate step-by-step detail about the discovery and the challenges faced by a devout researcher devoted to sharing his discovery with the world in the style of reading his personal diary and logbooks regarding his journey, as well as disclosures about the most effective protocols as they were developed along the way.