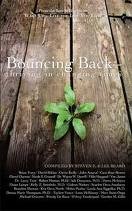 Book: Bouncing Back - Thriving in Changing Times
Regular price $12.99 $4.99 Sale
A book of essays and insights: welcome to a study of achieving clarity, being sure and moving forward. Featuring Taylore Vance of the Reiki Ranch, Wayne Dyer, John Assaraf, Brian Tracy and many other inspirational authors. Reg. $12.95 -- Sale $4.99
An emerging group of people that will not settle to just merely survive – they will only be satisfied to thrive! In this book you can read amazing bouncing back stories; the book features Wayne Dyer from Change Your Thoughts, Change Your Life, John Assaraf from The Secret, Brian Tracy from Reinvention: How to Make the Rest of Your Life the Best of Your Life, David Riklan from SelfGrowth.com, and me, Donna Marie Thompson, PhD from BouncingBackNow.com and Taylore Vance from the Reiki Ranch.
One writer says: "I lost my mother, my man, my money, and my health – all at the same time. But I bounced back. And I am here to tell you how I did it and that you can bounce back too." Life can present us with tremendous adversity – often when we least expect it. Yet misfortune and hardship can actually be transforming – you become stronger, wiser, and driven to maximize your full potential.
Bouncing Back – Thriving in Changing Times portrays how, remarkably, these individuals have bounced back under very difficult, often seemingly impossible situations. They bounced back, stopped living in the past, and made the conscious decision to follow their life's passion. They thrived despite extremely difficult times.
Bouncing Back – Thriving in Changing Times features stories of incredible loss due to broken relationships, financial loss, illness, lost jobs, death, and depression. The writers were knocked off their feet and thrown to the ground in some of the toughest situations that life has to offer. But each and every one of them bounced back – and they bounced back in style.
Don't wait!
Read this collection of amazing and inspiring stories now in Bouncing Back – Thriving in Changing Times now. Discover the keys to bouncing back better than ever! You'll be glad you did.