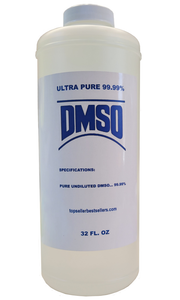 DMSO Topical Penetrant Solution (TPS) - 32 oz. pharmaceutical-grade 99.99%
Regular price $149.99 $79.99 Sale
This 32 oz. product is sold as a solvent only.
No representation of medical claims or uses can be, or are listed
Ingredient: Ultra pure 99.99% pharmaceutical-grade 8 fl. oz. Dimethyl sulfoxide (DMSO) is an organosulfur compound with the formula (CH3)2SO. This colorless liquid is an important polar aprotic solvent that dissolves both polar and nonpolar compounds and is miscible in a wide range of organic solvents as well as water.

 Pharmaceutical grade
FDA Compliance

The information on this website has not been evaluated by the Food & Drug Administration or any other medical body. We do not aim to diagnose, treat, cure or prevent any illness or disease. Information is shared for educational purposes only. You must consult your doctor before acting on any content on this website, especially if you are pregnant, nursing, taking medication, or have a medical condition.