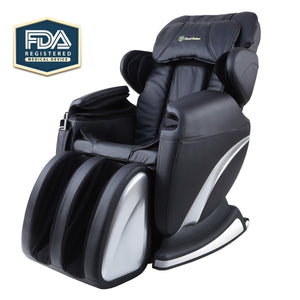 EQ: Massage Chair Recliner Free Shipping - Real Relax Full Body Shiatsu, Zero Gravity, Armrest linkage system,with Heater
Regular price $999.00 Sale
FREE SHIPPING
Real Relax Massage Chair Recliner - Full Body Shiatsu, Zero Gravity, Armrest linkage system,with Heater & Vibrator (Black 1)
100% tested before shipped and 3 Years Warranty

BEST MASSAGE EXPERIENCE: enjoy you spa massage easy with the 4 preset automatic massage programs have different massage methods; distribute the weight with Zero-Gravity surround space capsule evenly across the whole of the chair, you will fill fully relaxed physically and mentally; 8 massage points inside of the backrest work together with other areas to provide a complete massage to comfort and relax you from head to toe; there are 50 air bags placed all over the shoulder, arms, seat, and legs

HEATER & VIBRATOR: Heater is built inside of the seat to promote blood circulation and improve metabolism & Seat massager includes vibrate, heat and air squeeze.

Rollers massage the feet, different from air massage

Footrests extended for taller individuals, buy one and enjoy it with your family members.
This massage chair is delivered in

 

two boxes

 

per FedEx, one contains the main unit and the other contains the armrests. Be aware that sometimes the boxes are delivered separately. If you have received only one box the second should arrive the following day.