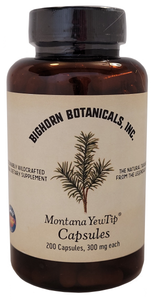 YT: Montana Yew Tip Capsules 300 mg 200 ct
Regular price $56.00 Sale
Montana Yew Tip Capsules, 200 caps per bottle-
Size 1 vegetable capsule with Montana Yew Tip Powder (pure Taxus brevifolia from the Legendary Yew Tree branch tip).
No Bovine, No Additives or Fillers, No Preservatives.
FDA Compliance

The information on this website has not been evaluated by the Food & Drug Administration or any other medical body. We do not aim to diagnose, treat, cure or prevent any illness or disease. Information is shared for educational purposes only. You must consult your doctor before acting on any content on this website, especially if you are pregnant, nursing, taking medication, or have a medical condition.