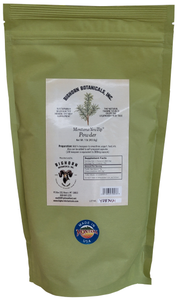 YT: Montana Yew Tip Powder 1 lb bag
Regular price $52.00 Sale
Montana Yew Tip Powder
This is a very economical way to fill your own capsules. 
Many others mix it in with edibles or tea. 
It can also be added to salad dressings or added to smoothies.
The Yew Tip Powder is carefully manufactured by Big Horn Botanicals.
1 lb. bag
FDA Compliance

The information on this website has not been evaluated by the Food & Drug Administration or any other medical body. We do not aim to diagnose, treat, cure or prevent any illness or disease. Information is shared for educational purposes only. You must consult your doctor before acting on any content on this website, especially if you are pregnant, nursing, taking medication, or have a medical condition.