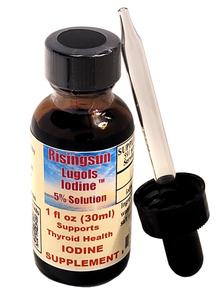 ID: Lugols 5% Iodine Solution - 1 oz.
Regular price $28.95 $20.00 Sale
 Lugols 5% iodine solution contains 5% iodine and 10% potassium iodide for a combined 6.33 mg of iodine per drop. All of our iodine products are manufactured at our GMP certified fr  FDA inspected at the Risingsun facility located in Montana.
Risingsun produces the Lugols iodine solution intended as an "Iodine supplement" intended to be taken internally. Risingsun's Lugol's 5% Iodine Solution label states it is an "Iodine Supplement". Risingsun creates the iodine crystals used in the Lugols solution from potassium iodide salt to ensure the quality, purity, strength, composition and identity.
Do not take a lugols solution that is made for chemical use or for talisman use. They contains heavy metals and other impurities. Demand the highest quality "Iodine Supplement", its your health, you will notice the difference immediately.
Compare Risingsun Lugol's Iodine Solutions certificates of analysis (COA's) to any lugols solutions.
Manufactured by: Risingsun Iodine Products an FDA inspected and GMP certified iodine supplement manufacturing facility located in Livingston, Montana USA. (FDA FFR registration No. 18101635346)
Ingredients: (85%) Distilled water, (10%) potassium iodide and (5%) iodine.
Dosage: 1 to 2 drops added to (4-6 oz) drink or as directed by your health care practitioner. add a couple drops of lemon or lime juice to improve taste or 1/4 teaspoon of ascorbic acid (vitamin C) powder.
Non-Allergenic Ingredients: Iodine isn't considered to be an allergen (something that triggers an allergic response) since it occurs naturally in the body and is actually necessary for thyroid function. However, some medications, solutions, or concentrations that contain iodine may cause a person to have an allergic reaction. Risingsun iodine solutions contain iodine, potassium iodide and distilled water.
Heavy Metals tested for: It's the cleanest of all Iodine on the market!
Arsenic (As), Barium (Ba), Beryllium (Be), Cadmium (Cd), Chromium (Cr), Lead (Pb), Mercury (Hg), Nickel (Ni), Selenium (Se), Silver (Ag). Risingsun is the only supplement company that tests for the RCRA 8 metals. The Resource Recovery and Conservation Act (RCRA) lists and monitors a group of eight heavy metals which are commonly referred to as the RCRA 8. The reason being, each of these eight metals is extremely toxic at even small concentrations. Risingsun's iodine supplements test the lowest for heavy metal content than any iodine supplement on the available.
To Make an Iodine Supplement Spray: Fill 4 oz.(120ml) container with distilled water; ADD 1 to 6 maximum drops of Risingsun Lugol's 5% iodine solution for desired ppm (parts per million). OPTIONAL: ADD 1 teaspoon lemon juice (a natural surfactant), then affix closure and shake to mix. Additional lemon juice can be added. To make a sanitizer mix 2 oz distilled water with 2 oz 100 proof vodka for at total of 4 oz. then add Lugols solution. Or: do not add any distilled water and only use 4 oz of vodka then add the lugols solution.
Iodine concentrations using Risingsun's Lugols 5% iodine solution - 6.33mg
Lugols 5% Solution (6.33mg)
1 drop
2 drops
3 drops
4 drops
5 drops
6 drops
Iodine Amount (ppm)*
53ppm
105ppm
158ppm
211ppm
264ppm
317ppm
* ppm (Parts Per Million) 
COA (Certificate of Analysis): COA's are available on request. COA's are required to be performed on every supplement by the FDA to ensure it meets CGMP (Current Good Manufacturing Practice) regulations. CGMP refers to the Current Good Manufacturing Practice regulations enforced by the FDA. CGMPs provide for systems that assure proper design, monitoring, and control of manufacturing processes and facilities. Adherence to the CGMPs regulations assures the identity, strength, quality, and purity of dietary supplement products by requiring that manufacturers of medications adequately control manufacturing operations. 
Lot# (Located on iodine bottle)
----564-1oz-RS-04022020
WARNING: If you are pregnant, nursing or taking medication consult your doctor before use. If any adverse reaction occurs immediately discontinue use of this product and consult your doctor. Keep this product out of reach of children.
FDA Disclaimer
The statements on this website, in our brochures and on our product labels have not been evaluated or approved by the Food and Drug Administration.

You should consult a licensed health care professional before starting any supplement, diet, or exercise program, especially if you are pregnant or have any pre-existing injuries or medical conditions.

Our iodine supplement products are not intended to diagnose, treat, cure, or prevent any diseases.