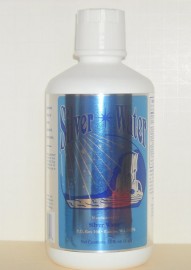 SW: Mineral water - Silver Ion Water 10 ppm - 1 Quart
Regular price $50.00 Sale
COLLOIDAL SILVER ION (WAIN WATER): 10 PPM.
Silver Water Ingredients:
Purified, deionized, microfiltered water and ten parts per million of Silver mineral (99.999% pure). One ounce contains over nine billion electrically charged particles of Pure Silver mineral.
The famous nano particle colloidal silver developed by CGAM - WAIN Water, using Tesla and Rife technology. It contains a B flat vibration for additional frequency. Also called colloidal silver WATER, Nanoparticle Colloidal Silver, Silver Rain Water, pure colloidal silver used the highest grade of pure silver metal 99.999%. CGAM is the only colloidal silver on the market that guarantees the silver colloids will never fall out of suspension. One oz contains over 30 billion electrically charged particles of pure silver mineral. Grandma used to drop silver coins in milk to delay spoilage, Grandpa put them in the water well. NASA chose silver to purify our astronauts' water. Most airlines use silver air and water purifiers. Shipped in the USA, only. This is the #1 choice of tens of thousands of people for helping to supercharge their immune systems By helping to boost the immune system, you allow your own body's natural defense system to work more efficiently at helping to maintain its natural and healthy state
FDA Compliance

The information on this website has not been evaluated by the Food & Drug Administration or any other medical body. We do not aim to diagnose, treat, cure or prevent any illness or disease. Information is shared for educational purposes only. You must consult your doctor before acting on any content on this website, especially if you are pregnant, nursing, taking medication, or have a medical condition.