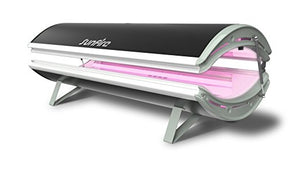 EQ: Tanning Bed Free Shipping in the USA Sunfire
Regular price $2,899.00 Sale
Enjoy the comfort of tanning in your own home with our Sunfire 16 Home Tanning Bed!
20 Minute Tanning Session

16 High-Efficiency Lamps

Largest Tanning Surface 81"x 36"

Delivered 95% Pre-Assembled 120VAC Power

12 Month Warranty
Our Smart Design Technology gives the Sunfire 16 the look and feel of a commercial tanning bed without the commercial cost. Each of our Sunfire 16 home tanning beds are equipped with 16 Wolff bronzing bulbs to give you that dark, bronzed glow quickly. You will save money with the energy efficient electronic ballasts that our tanning beds are manufactured with. Each session will only cost pennies! The Wolff 16 is easy to maintain and clean with our easy acrylic removal system and only takes minutes to assemble in your home. It plugs easily into a standard 110 volt receptacle. You will tan in comfort with our built in cooling technology and airflow design. It will not take long for you to see amazing results with the Sunfire 16 and you will love not having to make those appointments at your local tanning salon along with having to pay that monthly fee.
Runs on your standard 110v plug. Comes with goggles but not lotion.